Over the years several players from Bere Regis Football Club have gone on to play at a higher level, but none more so than Cyril Hewitt who signed professional forms for Portsmouth FC in the early 1950's, having previously been capped five times as an England Under 18 International. After his death in 2016, the following obituary appeared in the match day programme for Dorchester Town on 6th August 2016.
"Cyril was born at Bere Regis in 1933 and began playing football at an early age, and played for his school eleven. It was quickly apparent that Cyril was a talented goalkeeper and was soon selected to play for Dorset. Immediately on leaving school Cyril signed for Poole Town and was subsequently selected for the English Youth trials, and was then chosen to play for the England Youth team, gaining five international caps after playing against Wales and Scotland, and then on a tour of Spain he also played against Switzerland, Austria and Spain.
In 1951 Cyril signed professional forms for Portsmouth, but was then called up for National Service, where he served with the 6th C.I.C at Blandford and was a regular member of his Unit team.
On demobilisation he returned to Portsmouth, who had retained him, and stayed with them for two years. In 1955 he signed for Yeovil Town, where he stayed for one season, and in 1956 he was signed for Dorchester Town by the Players Manager Ken Bird, and became a firm favourite. Cyril then went on to play for The Magpies from 1956 until 1961, subsequently under the management of Arthur Proudler and Marcel Galliard, making a total of 34 league appearances, although as with Neville, he would almost certainly have made additional cup appearances.
Cyril was married to the late Brenda, and is succeeded by his sons, Gary and Kevin, and was grandfather to Michelle, Kimberley, Gemma and Danielle."
Melvin Cross, Dorchester Town programme editor
One of Cyril's England caps was for his appearance against Wales at Home Park, Plymouth on 23rd February 1951. This was the first game for which Youth Internationals were awarded caps. The official programme, costing 3d, included "Pen Pictures" of each player, which for Cyril read "Goal-keeper. Dorset and Poole Town. Safe, reliable and cool. Agricultural worker."
Cyril passed away peacefully at home in Bere Regis on the 2nd April 2016, aged 82, after which his sons, Gary and Kevin, decided to donate one of Cyril's England caps to Dorchester Town and another to Poole Town, a gesture that was reported in the Dorset Echo. That report notes that Cyril once turned down the famous Bill Shankley, who tried to sign him for Liverpool.
Click here to see that Dorset Echo Report.
The Echo report refers to caps won against Switzerland, Spain and Austria. What it doesn't explain is that these matches were in the 1952 FIFA International Youth Tournament held in Spain from 13th to 17th April that year. Cyril kept a clean sheet in the first match against Switzerland, played at the ground of Espanol. The 4-0 win saw the England team paired against host nation, Spain at the 'Camp de les Corts', home ground of FC Barcelona, this being five years before the Nou Camp stadium was opened. A 4-1 defeat meant that the last match in the tournament for the England team was the third/fourth play-off, which resulted in a 5-5 draw with Austria, who subsequently gained third place on the toss of a coin! No penalty shoot-outs in those days. Spain went on to win the competition after a 0-0 draw with Belgium, after extra time. The deciding factor in this case was "goal average in the semi-final" where Spain beat England 4-1 while Belgium drew 2-2 with Austria, but of course, won the coin toss. Click here for details about the FIFA Youth International Tournament, held in Barcelona in 1952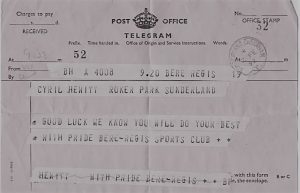 A telegram from Bere Regis Sports Club, sent to wish Cyril good luck in a game against Scotland at Roker Park, Sunderland on 2nd February 1952. The game was cancelled!